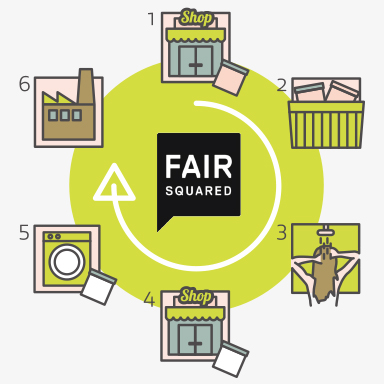 Zero Waste cosmetics: that's why we make it circulate
The term Zero Waste lifestyle is coined for the approach to lead a life with a minimum of waste being produced. All in all, the production of unnecessary materials is avoided. By this, the willful avoidance of packaging as well as the reusage of every resource which is available is included. In its core, Zero Waste means to reduce the carbon footprint and to put a stop to excessive consumption and plastic waste. As a sustainably acting company it is important to us to do our bit to make the world a better place. Therefore, we have made a plan to become part of the Zero Waste movement, together with our customers.
ZERO WASTE AND THE COSMETIC BRANCH: IT IS HIGH TIME
We have already begun to consider the ecological consequences of our actions in earlier times. At so many places, resources are vanishing for the sake of convenience in every day life. That everything is wrapped in a plastic packaging soon to be thrown away is absolutely absurd when considering the time for its decay. And what about Fairtrade certified cosmetics? We think that it's high time for a sustainable and fair change!
ONE WAY? NO WAY!
First of all there was the question we did not only ask ourselves once: "What is really sustainable?" Including ideas like "Can plastics be sustainable, too? Is glass the better alternative or should we fundamentally rethink our packaging?" After some months of exchanging ideas, we have decided that FAIR SQUARED should no longer bother about single-use packaging. We are rather heading the future with a sustainable Zero Waste concept which brings back returnable containers to the focus!
GLASS IN A CIRCULAR SYSTEM – THE FIRST STEP
Maybe it was the recollection of earlier times when milk was being brought to the households in glass bottles and be returned for recycling. Maybe it was just another story. The fact is: We have voted for glass as the new material which should be employed many times in a circular system. Although glass needs for its production a lot of energy, we have come to the conclusion that its ecological impact, if used right, is way better than every plastic material. The latter is often found where it does not belong and is produced by using a lot of energy and petroleum.
COSMETICS FAIR TO THE ENVIRONMENT? AS SIMPLE AS THAT!
At the start of the circle there is the product, whether in the shop's shelve or in our online shop. Here all our different sized glass jars and bottles wait for the moment when ethically and ecologically acting consumers buy them for their home use. When the creams and other body care products are used up, we take back the empty containers.
RETURNING THE GLASSES – BACK TO THE SHOP
The empty containers can be returned by the consumers directly in the shop. They are collected and sent back to us. To all of those who bought their Zero Waste products at fair2.me, we offer to take them back with a minimum of 10 containers. Regardless of their shape, you can return our glass jars and bottles as well as small lip balm tins. As a reward for the returning, we grant the addressee a 10 € voucher for his next order at fair2.me.
THE CIRCLE IS CLOSED: CLEANSING AND REFILLING
When the glasses have been returned, we let them be cleansed professionally and be prepared hygienically for the next step: the refilling. Since we are just at the beginning of our switch to the returnable system, we can not yet estimate the appreciation of the consumers. But we are deeply convinced that the refilling of containers is the future in cosmetics. With our simple but effective loop system we contribute to the avoidance of waste and moreover give glass an appropriate meaning. And besides we think that our jars and bottles look wonderful! 
20. October 2018