History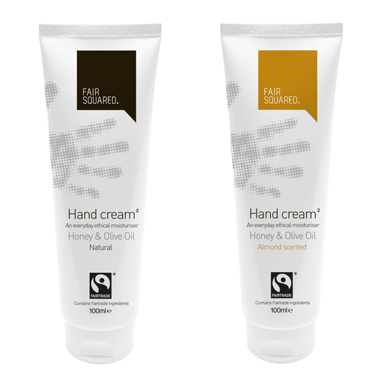 Fair products from head to toe: the idea
FAIR SQUARED is an alternative trade organisation, we aim to do our bit to reduce inequality in world trade. The Oxfam campaign "Make poverty history" in 2005 made us think: how can we create an impact? Five years later the first FAIR SQUARED products were sold via OXFAM and Amnesty International. In the UK students and a number of organisations picked up the idea and made the products more widely available.
The beginning of FAIR SQUARED
Among our first products were condoms, hand creams and lip balms. Demand grew fast and distribution partners in Scandinavia and the Benelux countries started to sell FAIR SQUARED products, too. In 2013, FAIR SQUARED moved to Cologne, Germany, and became FAIR SQUARED Ltd., production was moved to the nature park Eifel and Sarsted in northern Germany. Our range expanded from 12 to 80 products. Because of continuous demand we were able to increase the number of fairly traded ingredients we use: olive oil from Palestine, almond oil from Pakistan, shea butter from Burkina Faso and natural latex from India … we now source ingredients from more than 15 Fair Trade partners world wide. Today, FAIR SQUARED products are available all over Europe.
The future …
The world over there are over 1200 Fairtrade producer groups who are benefitting from Fairtrade. We would love to expand the FAIR SQUARED product range to 100 and use fairly traded ingredients like rose oil, mango, cucumber and cotton. With your support we'll get there.