Soap production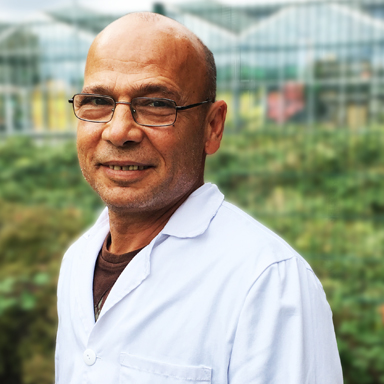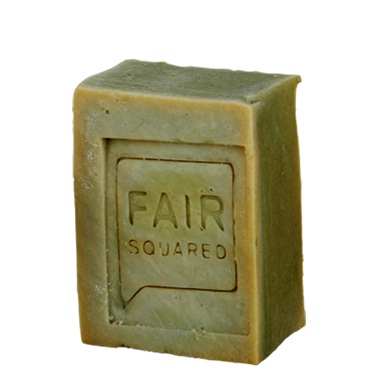 Mohamad and the FAIR SQUARED soaps
It couldn't be better – that's something we're deeply convinced of. When we had decided to expand our assortment with some handmade soap bars at the end of 2018, we experienced one of this fateful moments. At that time, we had already produced some prototypes of our natural soaps and were about to plan the details. Who should work in our production, which types of soaps should soon complete the FAIR SQUARED range, and how would this work out in a sustainable and fair way? These were some of the questions we had on our mind, when we received a message of destiny to our employment ad which made us really curious.
THE ALEPPO MAN FROM COLOGNE APPLIES
A nice man from Cologne turned to us, his CV immediately fascinated us. Mohamad Khiro who had been living together with his wife and six children in a southern part of Cologne for some years now, applied for the job. When we invited him for an interview, he told us his story which we don't want to withhold from you.
WAR-DRIVEN SYRIA: ORIGIN OF THE FAMOUS ALEPPO SOAP
The Syrian city Aleppo, where family Khiro originates from, is internationally renowned for its natural soap production. Not just a few people associate Aleppo automatically with the manufactured soap. But the city's history is inevitably connected to the incidents of the civil war the past years. Like many others, Mohamad and his family had directly felt what the outbreak of the war meant and therefore finally left the country. After a stop in Lebanon, they made their way towards Germany.
FROM ALEPPO TO COLOGNE
Although it may sound a bit cheesy, it's a true story: In his home town Aleppo, Mohamad had built up a thriving business to manufacture and sell soaps and detergents which before shutting down for good employed 15 people. When the events turned out worse after 2011, his factory and the home of his family had been totally destroyed. The thought of leaving became omnipresent. After a 1.5 years long stopover in Lebanon, the Khiros finally came to Germany in December 2015. His family now lives in our direct neighbourhood, in the city of Cologne. And Mohamad? He never got the soap business out of his mind. That's why he founded a small business in 2017, to get back to the Aleppo soap production. But this was just the beginning …
ONE THING LEAD TO ANOTHER
From the beginning of 2019, Mohamad has been a team member of FAIR SQUARED. We could not have believed it ourselves, if he had not been there at the exact right moment in time. At FAIR SQUARED, Mohamad can proceed doing what he had been doing with great effort and commitment in Syria for many years. At the same time, we as a team are absolutely happy that he found his way to us.
AND WHAT DOES MOHAMAD EXACTLY DO AT FAIR SQUARED?
In the traditional way, Mohamad – we often call him our loveable "Aleppo Man" – manufactures the well-known Syrian soap for us which is made without additives or perfumes, nor synthetic colours or other artificial ingredients. And since he is working for a Fairtrade company, he solely uses Fairtrade certified olive oil and high-class laurel oil from organic sources.
HANDMADE FAIRTRADE SOAPS FROM THE RHINELAND
Besides the traditional Syrian Aleppo soap, Mohamad also produces other kind of soaps for us. Amongst others, he makes our FAIR SQUARED "Kölsch beer" hair soap which contains organic beer from the brewery Brauerei Heller. This one is exclusively developed as a hair cleansing soap, and varies in its composition due to the different hair and scalp types. The idea behind the creation of hair soaps including beer is the fact that, in earlier days, the drink was used as a "household remedy" for nourishing skin and hair. The reason for this: the included hop contains a high amount of minerals and valuable trace elements and is therefore said to bring excellent, miraculous results. A bit as miraculous as the idea of our own personal fate you might say …