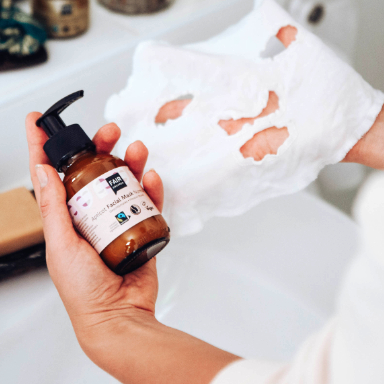 FAIR SQUARED Cotton facial mask
The world's first reusable facial mask made of fairly traded organic cotton. Suitable for repeated use. Simply soak the mask into the facial mask fluid, place it on your face and leave to take effect.
| Contents | Packaging | EAN - Code |
| --- | --- | --- |
| 1 pcs | pack | 4260365853734 |
Tips for usage
That's how it works
1. Put your preferred formula or a ready-made fluid in a bowl or a deep plate.
2. Soak the mask inside it. Just leave it there shortly.
3. Put the watered and wrung out cloth on your face and leave it there.
4. After usage, the sheet mask can be washed at up to 60 °C and dried. Please take notice of the fact that after the first washing the mask's size can be shrunk by 10 %.
5. When it is dry, the sheet mask can be used over and over again.
Order online here: